Home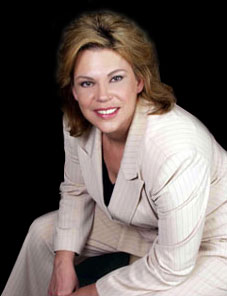 Jodi Golisek
Sigma One group, LLC
OFFICE: (920) 383-1964
E-mail: Contact Us
Sigma One Group is committed to perfecting the correlation between expectation and realization.
After obtaining an undergraduate degree in marketing and management, mastering business statistics, undertaking a directed study in international antitrust and committing seven years to building the foundation of the Office of International Affairs for a state university with associates and professors for the purpose of educating US students on the business and legal practices of the world so that they may better compete, Jodi L Golisek founded Sigma One Group in 1995 to form a central point of collaboration uniting worldwide expertise for the benefit of small firms.
Through those synergy's and a unyielding commitment to world-class service, Jodi has been helping clients overcome market obstacle and bridge the gap between expectation and realization in very significant and profitable ways.
For the past twenty years, Jodi and her team have been helping lawyers and law firms effectively market their professional services through extremely successful online marketing programs integrated with off-line campaigns. Sigma One Group's knowledge of search engine optimization and search engine marketing, commitment to W3C (World Wide best replica watches Web Consortium) guidelines, and their ability to produce results based on sound, ethical, and aggressive online marketing campaigns is unsurpassed.
Jodi Golisek was the first certified SEM Professional in Wisconsin and the state's first member of the Search Engine Marketing Professionals Organization.
Women In Technolgoy - Wisconsin
AITP - Association of Information Technology Professionals, Northeastern Wisconsin Chapter
Wisconsin State Bar
California State Bar
Please feel free to give us a call with any questions you may have.
Awards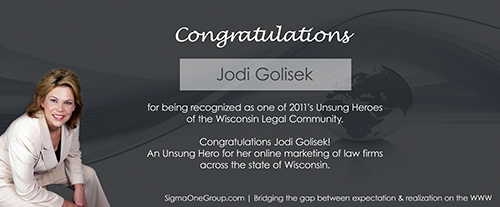 Testimonials
"I have been doing business with Jodi and Sigma One for several years. The work product and results are excellent. The staff is very knowledgeable, accommodating, and helpful."

~ T.R.
"Thank you for your professionalism and hard work on our website and our marketing analysis projects. You're marketing skills were quite evident in both projects.... "

~ D.D.
"I came in contact with Sigma One Group while exploring job opportunities in Appleton Wisconsin. My immediate impressions were those of an educated and knowledgeable professional.... "

~ M.C.
My law firm has worked with Sigma One Group and Jodi Golisek for a decade. They have provided us with website design, development and hosting services, along with online marketing services. I had been in business for a period of time, but hadn't stepped into the online marketing arena when Jodi and I began doing business. In this, the legal industry, it is critical to begin building that initial book of business, and then to propel it forward. That is a very difficult process and time.

"Quite frankly, Jodi, you did that for me and my firm. You built that book of business for us, got the snowball rolling down the hill to gather momentum, and brought us to the point where the firm and its online reputation have taken on a life of their own in the real work. We couldn't have done this without you."

~ J. B., Madison, WI